Copywriting Analysis & Optimization of leonorlemee.com
Leonor is a French-British voiceover actress who grew up in Paris and Ecuador. She is bilingual since childhood and now living in London. Her specialty is character work, narration, and commercials. In the last seven days, I analyzed her mobile website on the iPhone X and optimized it.
If you don't want to read it, here's the screenshot of the original page and here's my complete revision of the copy and design. And if you simply wanna listen, see my voiceover recording above. There, I'm explaining how I analyzed and optimized three sections of Leonor's website (not only one). I'm going more into depth than in this 2-minute read.
Also, make sure you click here to check the archive with past episodes.
I know Leonor through the Gravy For The Brain community but during the analysis, I imagined to be (fictitious) Rick who doesn't know her but is interested to hire an English voice with a French accent.
Here's the original "above the fold" section, my revised version, and my thought process while I optimized it. It shouldn't take you longer than two minutes.
---
Old: The original "above the fold" section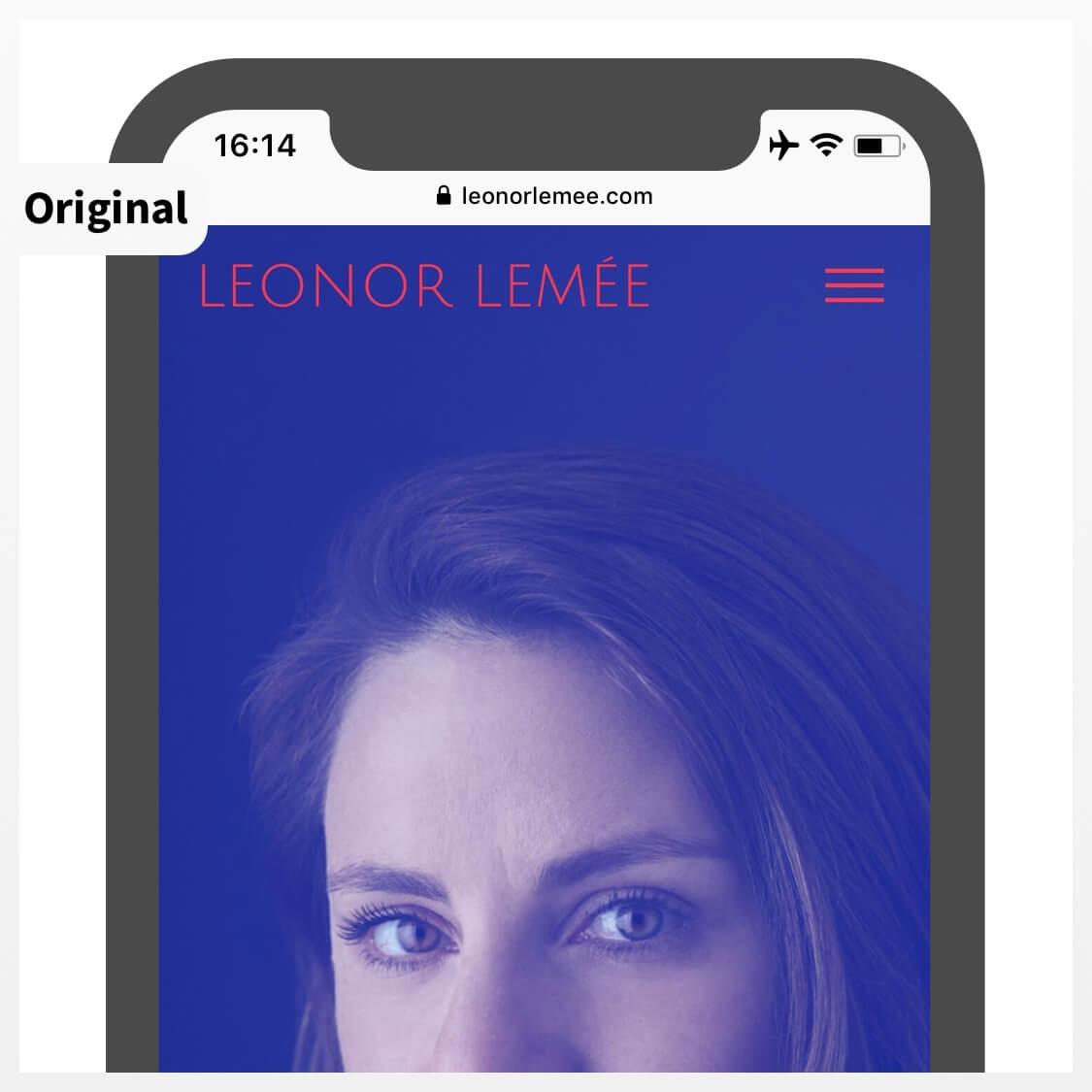 The original "above the fold" section - click to enlarge and for more details
How I optimized the "above the fold" section
There wasn't much copy here, only a headshot of Leonor, her name, and a hamburger menu icon.
Instead of focusing on her, I made this section about the visitor while introducing Leonor's (newly written) tagline:
A versatile European voice actress bringing your idea to life
Then a clear call to action:
Let's talk about your project!
I complemented the section with one paragraph about her including the fact that she grew up in Paris and Ecuador which became a link to her (not yet existing) about page:
I'm Leonor, a voice actress specialised in characters, narrations, and commercials. Bilingual in English and French, I grew up in Paris and Ecuador.
I then repurposed and edited an existing paragraph which is serving as a transition to the demos section and as a link to her voiceover services section:
Finding the right voice can be hard, especially if you're after something a little exotique. To see how I can help you, listen to my demos and read about my voiceover services.
While I provided links to subpages and other parts of the homepage, I always kept the copy on topic: making it about the visitor and how Leonor can help them.
Design-wise, I made the three lines of the hamburger menu ≡ thinner so they go hand in hand with the thickness of the letters LEONOR LEMÉE.
I also scaled down Leonor's headshot and moved it to the right which gave space to her tagline A versatile European voice actress bringing your idea to life and her voiceover gaming demo. I made sure to position the play button at the same vertical position as her eyes so that they stay in one line and end up being connected.
The call-to-action (CTA) button is visually dominating to make obvious what to click. The play button for the demo has secondary visual dominance but it's big enough to be recognized.
Before, the section looked more like the kind of page that maybe a photo model would use (i.e. big headshot). Now, it feels more like a composition where the focus is on listening to the demo and then clicking the CTA button. There's overall more life in the section now. It's more exciting and inviting to explore her site further. The potential for the visitor's attention and them staying on the page has grown. Of course, the data will have to prove my point. But running these tests is out of the scope for this analysis.
New: My revised "above the fold" section
The revised "above the fold" section - click to enlarge and for more details
---
Did Rick hire Leonor?
Yes. Only after having listened to her demos, Rick would have hired Leonor should he need a French-British voice. Without a doubt, her voiceover performances are topnotch.
Also, with her current website, I would not be surprised if she gets voiceover jobs through it. The website works. During my optimization, I mostly rearranged existing elements to lift the visitor's experience on the website to a level that is on par with her pro level as a voiceover actress.
The website is showing Leonor but the website is actually about getting hired. So, as a voiceover artist, make your website about the potential client, not about yourself. It's not "me / I / mine" but "them / they / theirs".
Support
If you enjoyed the analysis, you can become a supporter. I'd appreciate that. As a supporter, you also get access to the in-depth analysis and the complete archive.
Which website would you like me to analyze and optimize for you next?
Send me an email to copywritingexamples@naii.io. Keep in mind that the website needs to be about voiceover professionals, voiceover service providers (hardware, software, education) or voiceover-related. And yes, if you're a voiceover artist yourself, you can submit your own website :)
What else you could do?
Subscribe to my daily copywriting emails. You'll get copywriting tips, advice, and insights that make you more money or save you money. And, you'll be notified as soon as I will have published a new copywriting analysis.

Forward this case study to a fellow voiceover professional or VO service provider. This might help them to improve their own sales copy.

And (obviously)…
Share this article!
If you liked the case study, here's what you can copy-paste and share on LinkedIn, Twitter, Mastodon, or Zuck's creepy verse…
This guy lost it. He spent 24+ hours nerding out about one website and compressed it down to 2 minutes. Read his in-depth copywriting analysis of Leonor Lemée's mobile website or listen to his ahs & ehms on the Copywriting Examples podcast https://copywritingexamples.com/leonorlemee/
---
Permalink: copywritingexamples.com/leonorlemee