[Copy Case Express #3]: Abinaya from Remote Leaf
I analyzed Remote Leaf's sales copy on their mobile website using my iPhone X, and I optimized it for higher conversion. It's the result of 18 hours of work. You can read it in two minutes.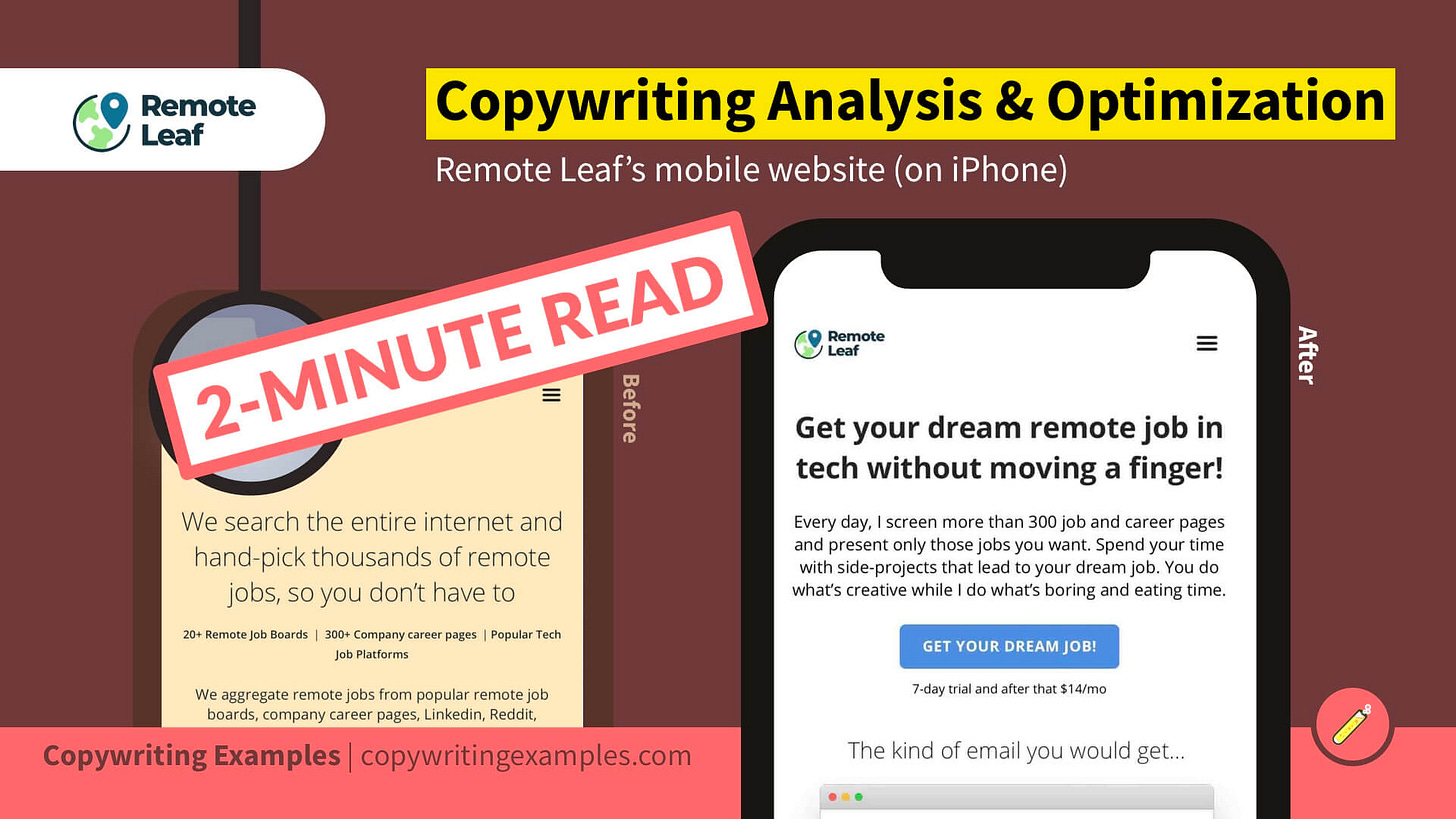 The 2-minute express Copywriting Analysis and Optimization of Remote Leaf's mobile website
Remote Leaf is a single person (Abinaya) who aggregates remote jobs from online job boards and career-related websites. It's manual work.
The business goal of Remote Leaf: Abinaya wants you to subscribe to her online service ($14/mo, $60/6 mo, $100/yr).
I analyzed Remote Leaf's copy on its mobile website using my iPhone X, and I optimized it for higher conversion and a better story-reading experience. It's the result of 18 hours of work.
Learn to write sales copy that sells if you're a voiceover professional, a VO-related service provider, or an independent creator.
Make sure you click here to check the archive with past episodes.
Here's the original "above the fold" section, my revised version, and my thought process while I optimized it. It should take you less than two minutes to read it. That's why it's an express version but…
You can read the complete analysis here. This includes a podcast in which I explain in-depth how and why I changed each part of the copy AND design on Abinaya's website, and you'll get the exclusive BIG takeaways that you can apply to your website.
Also, you get access to the completely rewritten copy, the new design, and all of the live HTML+CSS code that I used to re-design her website in the browser.
Old vs. New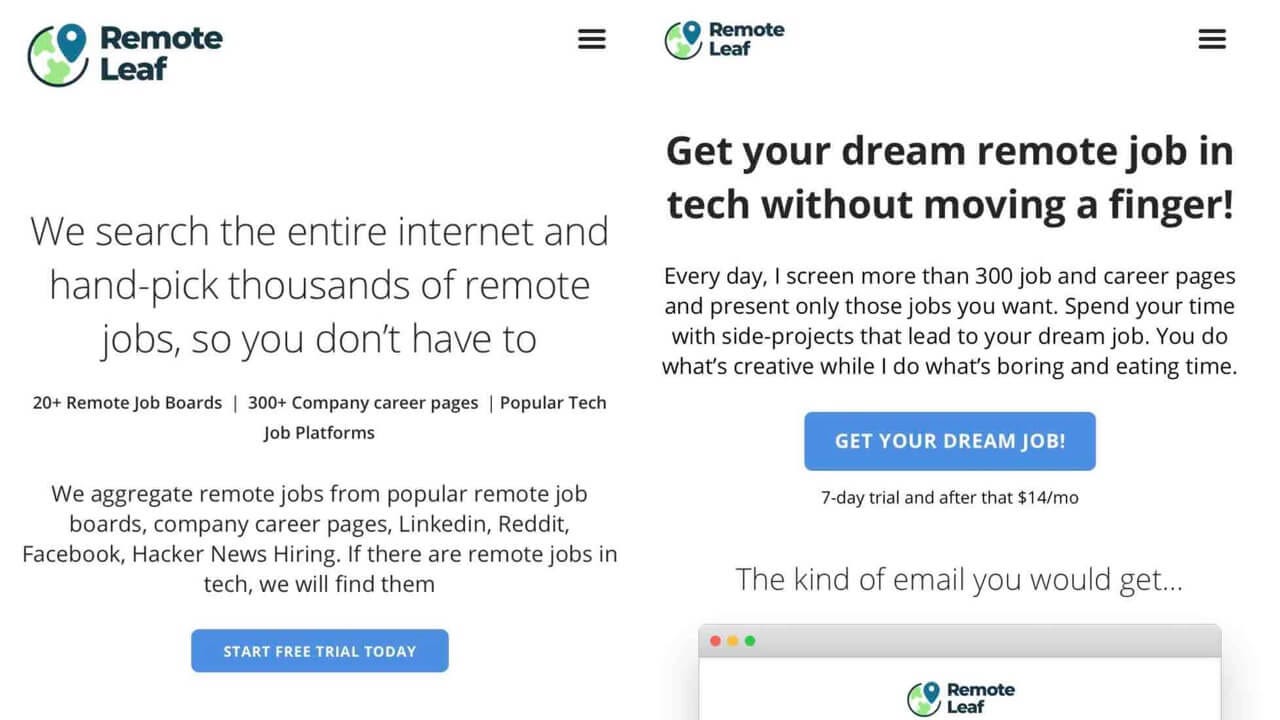 We search… vs. Get your dream…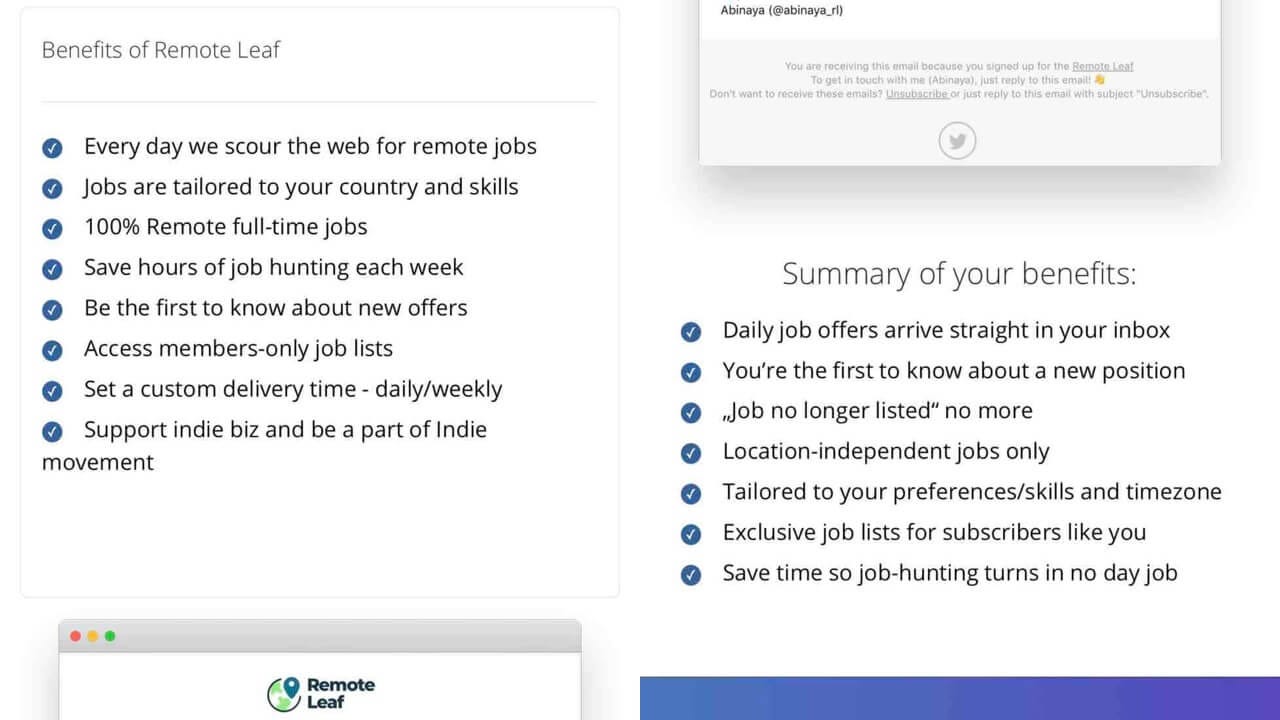 Benefits of Remote Leaf vs. Summary of your benefits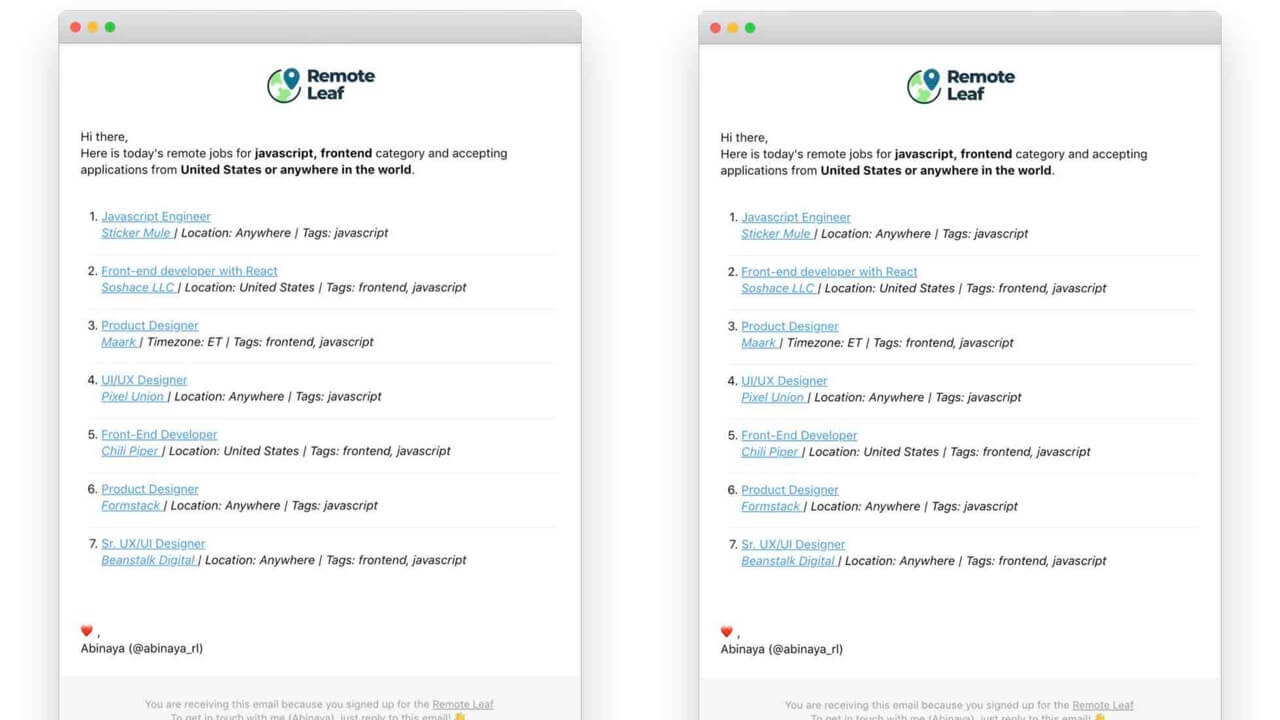 I left the sample email intact
How and why I optimized it…
For the above-the-fold section, I answered the questions:
What is the product?

How does it work?

Why should I buy it?
The headline "We search the entire internet…" is an example of We-copy. Good for you that you do that kind of work, but make the headline about me. So, I changed it to "Get your dream remote job in tech without moving a finger!" That's what I want and this answers the question: What is the product?
How it works and why to buy it is being answered by the newly written paragraph that follows:
Every day, I screen more than 300 job and career pages and email only those jobs you want. Spend your time with side-projects that lead to your dream job. You do what's creative while I do what's boring and eating time.
To mention "more than 300 job and career pages" is sufficient. You don't have to give me all the details like "20+ Remote Job Boards │ 300+ Company career pages │Popular Tech Job Platforms". You could mention that below in the FAQ section.
Also, the second paragraph…
We aggregate remote jobs from popular remote job boards, company career pages, Linkedin, Reddit, Facebook, Hacker News Hiring. If there are remote jobs in tech, we will find them
…felt redundant and too specific for this part of the site. Create attention and curiosity, and make Rick (my fictitious buyer) click the button which I, by the way, renamed to "GET YOUR DREAM JOB!" because "START FREE TRIAL TODAY" is again We-copy. Do also pay attention to the correct spelling of words, e.g. "LinkedIn" is written with a capital "I".
I also added the bit…
7-day trial and after that $14/mo
…to make clear that this is, first of all, a paid service but that it includes a week of trying it out. It's also some light price-anchoring since I'm contrasting the 7-day free trial to the 14 dollars a month. And it conveys transparency and honesty. You don't want to trick people into your subscription but tell them what they sign up for and what will happen next.
I switched the order of the bullet points (benefits) and the preview email screenshot because I want to show the reader how such a job results email would look like as early as possible. It's the same concept that's applied to sales pages where a book cover is shown or where a video is shown that is explaining the product. Here, all you need is a screenshot of a window to present the future result of your product.
By saying "The kind of email you would get…" you're also guiding the reader through your page more gently.
After that "Benefits of Remote Leaf" is another example of We-copy. Of course, you would think these are the benefits of your service. But it MUST be the benefits for the reader. So it's…
Summary of your benefits:
…because to say that it's a summary also makes it more likely that they will read it since they know it will save them time (summaries usually save people time).
The following bullet points I adjusted in terms of how they were written and how many there were… Before it was 8 bullets, now it's 7 bullets (see: Rule of Odds).
But when I later checked the sub-page /whoishiring, I saw…
Remote Leaf hand-picks thousands of remote jobs from 40+ remote job boards, 1200+ company career pages, Linkedin, Reddit, Facebook, Hacker News Hiring and only sends the ones that apply to you.
So I was wondering whether I should mention "1,200+" instead of "300+". Talking about 1,200+ would certainly be more impressive though I don't know if Abinaya actually screens 1,200+ pages and boards on a daily basis. So I left it at 300 because I don't want to lie. Good copy is always honest.
Continue reading or…
Support
If you enjoyed the analysis, you can become a supporter. I'd appreciate that. As a supporter, you also get access to the in-depth analysis and the complete archive.
Which website would you like me to analyze and optimize for you next?
Send me an email to copywritingexamples@naii.io. Keep in mind that the website needs to be about voiceover professionals, voiceover-related services (hardware, software, education) or independent makers and indie businesses. And yes, if you're a voiceover artist yourself, you can submit your own website :)
What else you could do?
Subscribe to my (almost) daily copywriting emails. You'll get copywriting tips, advice, and insights that make you more money or save you money. And, you'll be notified as soon as I will have published a new copywriting analysis.

Forward this case study to a fellow voiceover professional, VO-related service provider, or an indie maker friend. This might help them to improve their own sales copy.

And (obviously)…
Share this article!
If you liked the case study, here's what you can copy-paste and share on LinkedIn, Twitter, Mastodon, or Zuck's creepy verse…
This guy knows what he's talking about. He dove 18+ hours into one website, analyzed the written sales copy, optimized it, and compressed his results down to a 2-minute article. Read his copywriting analysis of Remote Leaf's mobile website on Copywriting Examples https://copywritingexamples.com/remoteleaf/express
Do you want articles like this in your inbox each week?
Join my list and get access to these articles, regular copy tips, special offers and new products I'm creating…
---
Permalink: copywritingexamples.com/remoteleaf/express